How to implement video in B2B sales outreach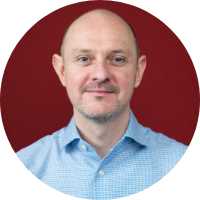 Jonno Price
//
In a world of automated LinkedIn connect requests, canned follow-up messages and templated email sequences, you'd be forgiven for thinking that B2B sales outreach had got a little… robotic.
And while technology can be used to fast-track and streamline your sales approach, there are ways to stand out from the crowd whilst making a more human connection.
By including personalised video in your sales process, you can grab attention, really land your message, connect on a personal level, and — as a result — see your response and conversion rates skyrocket.
Why video in B2B sales outreach?
As sales-people and marketers, we're all also consumers. And, as someone's target buyer, we're inundated with sales messages all day long. Let's face it, most people don't like cold, unscheduled sales calls. And how many promotional emails do you delete in your inbox, after just a quick scan of the content?
We've all got tired of the same old, same old email format. Catchy first line, bit of body copy, call-to-action at the end — sales outreach like this risks losing all impact.
But what if the next sales email you opened had a video built into it? Even better, what if that video had been recorded specifically for you — if it mentioned your business name, had a screenshot of your website or logo, and responded directly to your problems and needs.
Well, that's something you're likely to pay attention to. And it's the same for your potential client.
Video outreach really works
On a previous client project with a fintech company selling into enterprise level brands, I worked with the sales manager to implement video in his outbound approach where he was targeting high-value key accounts to schedule an initial call or meeting.
Taking the time to personalise each video, including the video cover image with the prospect's name and logo resulted in a massive 6x boost in responses and meetings booked.
The downside is of course the time spent (each 2 min video took about 20 minutes to prep, record, edit and insert into a personalised email sequence), but we found that this got quicker and easier with practice.
Once up and running with a process a typical scenario was to block out half a day every other week to record a batch of 20 to 30 videos. But remember, these were only being done for the high-value accounts and the results easily justified the time invested.
Tips for B2B sales video outreach
Here are a few key pointers to keep in mind when developing B2B sales video content:
Keep it short and simple. Like most of us, B2B decision-makers tend to be time-poor. If you want them to pay attention to your brand, agree to a call or meeting and — even better — consider buying from you, you need to respect what time they do have. All killer, no filler!
Be a human being. B2B doesn't have to be boring and there's no need to go super-corporate with your video content. Be friendly and talk naturally. Embrace any vulnerability you might have to start. It shows you are human and is still a thousand times better than a soulless email template.
Don't let the lack of an elaborate production facility hold you back. As mentioned above, video in sales outreach can be less polished and more natural than a typical branded corporate marketing video. Whilst you want to ensure audio quality is good and that you don't come across as entirely amateur, you shouldn't feel the need to have expensive video production and editing facilities. You can get started with a relatively simple setup - even your laptop webcam or a new Smartphone (ideally on a tripod) will do the trick. If you are going to invest in anything then get a good quality lapel mic.
Personalise your video content to the prospect and their stage in the sales cycle. Like any email, call or presentation, the impact of sales video can be significantly boosted if you do some research prior to hitting the record button. Mention something you saw on LinkedIn, the news or the company's blog. Be authentic and tie it to the reason for reaching out. Also, consider where you are in the sales cycle. A video could be just as effective at booking that first meeting as it could be in addressing a pricing concern later on in the process.
How to manage the setup? Well, it's here that the all-in-one digital growth platform HubSpot really starts to show its worth.
How to build a video-based outreach strategy with HubSpot and Vidyard
NOTE: requires Hubspot Sales Hub Pro or Sales Hub Enterprise
HubSpot's Vidyard integration makes it easy to record and send personalised one-to-one video messages via email, video-based sales email templates or to enrol potential clients in a video email sequence.
Here's how you do it:
Log in to your HubSpot account, and find your way to your contacts
Select the recipient(s)
In the left panel, you'll see an email icon — click it
If you're emailing a prospect one-to-one, click the video icon in the pop-up box. Or, if you're adding a video to a template or sequence, simply select Templates or Sequences at the top and then click the video icon in the editor.

Click New Video in the dialog box, and select to either upload a pre-recorded video, launch a camera and microphone recording from your device, or capture a screen recording — whatever works best for your prospect(s)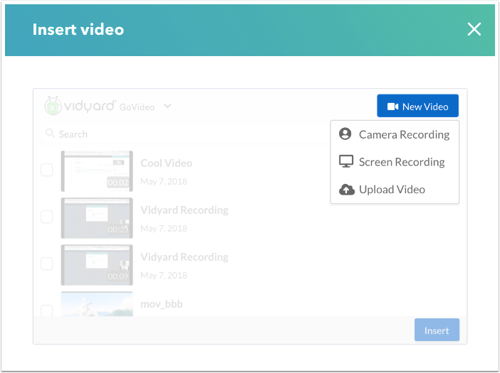 If uploading a pre-recorded video, just hit Upload Video, Open and Insert
If doing a fresh recording, hit start recording (a banner will appear if you're screen recording, but don't worry, this won't feature in your video)
Once you've finished recording, click the stop icon
…and add the video to your email by selecting Insert
It really is as easy as that!
How to build a video-based outreach strategy with Loom and Gmail
Don't worry if you don't have Sales Hub Pro / Enterprise - you can still incorporate video into your sales process. For example, I've used Loom video in the past. This is a fantastic tool to record your screen and web cam. If you have Gmail then it is super easy to insert the video along with a nice thumbnail image directly into your email.
Using Loom you simply record your video and then use the share to Gmail option: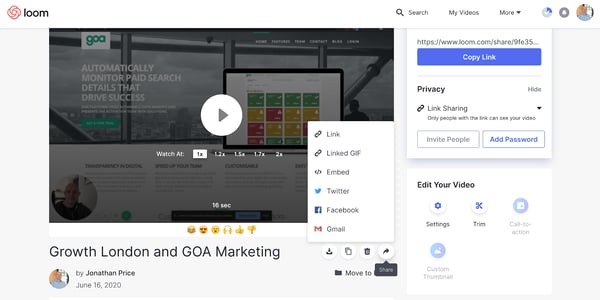 This will then add your video to your email along with a thumbnail image.
Now you can compose your email as you would normally and send. And of course if you are using Gmail linked to your Hubspot account then this will also neatly log the email to the relevant contacts and companies in your Hubspot CRM.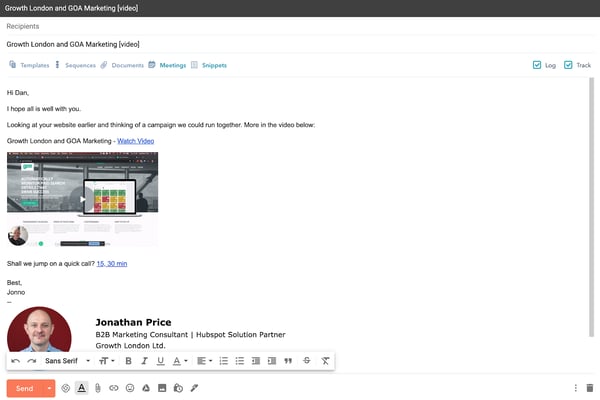 The above process works with Hubspot free CRM and also the paid versions.
I hope this blog has been useful and I'd appreciate any comments if you've tried video in your sales outreach.
Need more help? Just reach out
There's no question that video can play a key role in your overall sales strategy, and HubSpot is the ideal engine to power it all. But when you actually sit down to look at everything, it can be a tad overwhelming.
But don't worry, Growth London is here to help. If you'd like to supercharge your B2B video strategy and skip through all the tough stuff, get in touch today and we'll get you on the fast-track.
--
Main image by Harry Cunningham on Unsplash
---------