HubSpot and LinkedIn is a match made in B2B heaven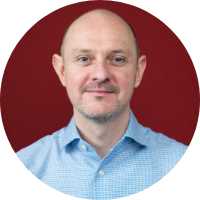 Jonno Price
//
LinkedIn is not just for recruitment or snooping on colleagues. Top-performing sales and marketing teams love LinkedIn for lead generation, social selling & direct outreach to prospects, expanding a contact network, increasing brand awareness by sharing and amplifying company news/content/products & services, and let's not forget highly-targeted paid advertising.
With Hubspot all of this activity can be tied together and reflected seamlessly in your CRM, aligning your sales and marketing team whilst improving conversion rates.
Part 1: LinkedIn Advertising & HubSpot
HubSpot delivers a suite of features that integrate with — and greatly enhance — the out-of-the-box LinkedIn Ads toolkit.
And for those pursuing an Account Based Marketing (ABM) strategy, HubSpot's LinkedIn integration can be particularly powerful. An ABM approach relies in part on the curation of lists containing high-priority individuals from specific accounts. Within the context of B2B, this can help you to cut the wheat from the chaff and target only the accounts & buying personas that are worth your effort.
Here are some of the standout features of the integration:
Build a LinkedIn Ad audience, directly from a list in Hubspot. It is super easy to build custom audiences (e.g. based on persona or industry sector) plus website retargeting audiences (e.g. visitors to certain landing pages) for LinkedIn Ads, directly from Hubspot.

For example in ABM: you could quickly create an audience from your target account contact list allowing you to run paid ads on LinkedIn to build awareness of your brand, whilst your sales team are carefully coordinating their outreach. (Note: The ability for Hubspot & LinkedIn to match contacts will rely on your CRM data quality but I've seen excellent results.)

TOP TIP: LinkedIn's new Conversation Ads format is a brilliant addition to their ad module and an ideal match for an ABM strategy.


Identify your best-performing ads at a glance. You'll be able to track the entire user journey for each of your ad campaigns which means you can easily identify which of your ads and ad types are performing best, and double down where you want to. Also as an added bonus there is no need to set up conversion tracking or fiddle around with conversion pixels or imports. The integration's "Auto-tagging' feature neatly takes care of all of that.


Create Lead Generation ads directly in Hubspot. LinkedIn Lead Gen ads are really powerful as they allow advertisers to collect complete and accurate leads from users in LinkedIn without the users having to leave the LinkedIn platform. Once members click your ad, they'll see a form that's pre-filled with accurate professional information from their LinkedIn profile, such as their name, contact info, company name, seniority, job title, and location.

When creating a LinkedIn Lead Gen ad in HubSpot, you can target users based on website activity or contact lists, and

you can configure notifications and create a list for new contacts who submit their info on your form.



Build funnels based on ad interactions. Using HubSpot's automation tools, you're able to construct workflows based on certain trigger events — including ad clicks and lead gen form fills on LinkedIn . This allows you to set up some great automated lead nurture campaigns as well as ensuring that handoff from MQL to SQL is seamless. You can also add and remove users from Ad Audiences based on actions taken. For example, remove customers and people who have booked a demo from your ad audience so that you don't keep advertising to them.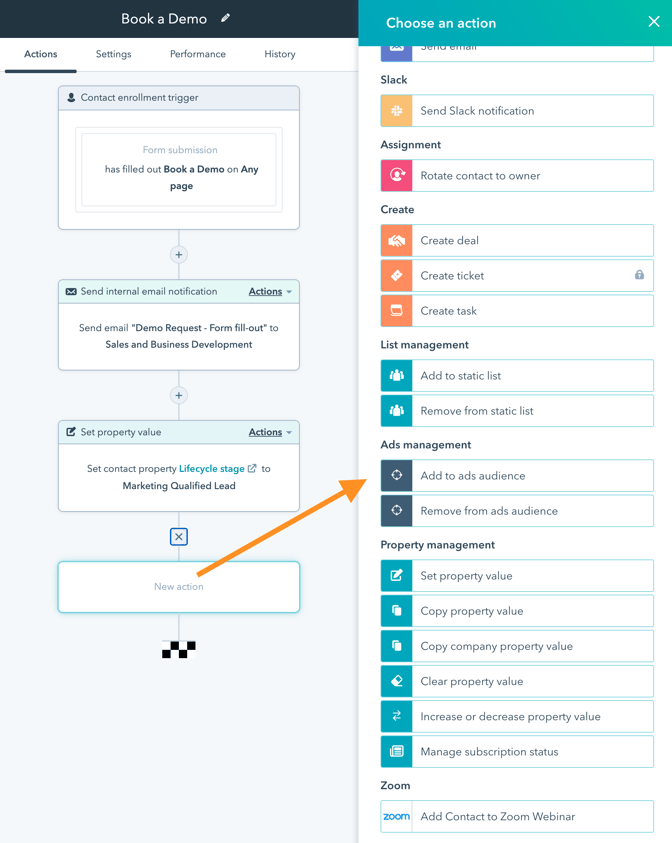 If you think you're ready to give this dynamic duo a try, it all starts with a simple connection.
How to connect LinkedIn to HubSpot
Before you begin:
You'll need Publish access to the HubSpot Ads tool.
You'll also need to be an Account Manager for the relevant LinkedIn Ads account.
Next:
First, log in to HubSpot as normal, then click the Settings icon (the cog) in the main navigation menu.
In the left-hand menu, click Marketing > Ads.
Head to the Accounts tab, then click Connect Account.
In the pop-up box, choose LinkedIn.
Next, select the LinkedIn Ads accounts you'd like to link to HubSpot. If you're planning to take advantage of the advanced tracking features HubSpot offers (and this comes highly recommended), leave the Auto Tracking toggle enabled.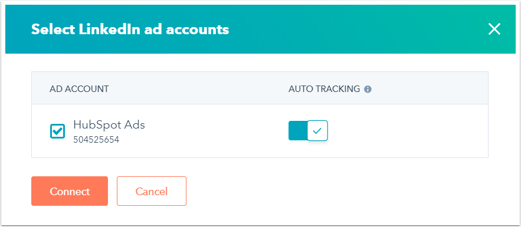 Click the Connect button to make the connection.
Before you finish up, you'll have the opportunity to sync leads from LinkedIn to HubSpot.
Finally, click Save.

If you now navigate back to the Ads Accounts section of HubSpot, you should see all of your LinkedIn data available for analysis, optimisation, and many other powerful features.

For more details on connecting LinkedIn and Hubspot click here.
Part 2: LinkedIn Sales Navigator & Hubspot
HubSpot's powerful pairing with LinkedIn doesn't end with its support for LinkedIn Ads and social media posting.
If you're using the Team edition of LinkedIn Sales Navigator (minimum of 2 licences required), you'll also be able to enjoy a richly featured integration with HubSpot's CRM and Sales Hub. You'll already know that Sales Navigator gives you much more flexibility and oversight of your sales process within LinkedIn. HubSpot's integration pulls features of the Team edition of Sales Navigator into contact and company records.
Here are just a few of the key features of the HubSpot Sales Navigator integration:
Enhanced contact records. Once you've activated this integration, you'll see a Sales Navigator card for all of your LinkedIn contact records. This will give you some useful at-a-glance info about the person, including their name, title, company, role, and more. The best part? You'll also find a new Save in Sales Navigator button which will allow you to add them to any of your lists in a couple of clicks.


Send InMail without leaving HubSpot. Want to reach out to a prospect directly using LinkedIn's own messaging system, InMail? With Sales Navigator integration, it's possible. Just write your message, send it, and carry on with your day in HubSpot.


Advanced company records. Just like with Contact Records, the Sales Navigator Integration also enables detailed views of companies from within HubSpot. You'll find the same Save in Sales Navigator button, as well as useful insights such as recommended leads, connections, and company news — all within HubSpot.


Advanced Automated Sales Sequences. Probably my favourite sales module in Hubspot Sales Hub Pro are Sales Sequences. E.g. allows you to set up a sequence of drip-fed emails combined with follow-up tasks that you enrol prospects into. It is a super powerful tool for B2B sales teams and with the Sales Navigator integration you can now add LinkedIn related steps directly into your sequence. For example you can create tasks to remind you to send an InMail or connection request as part of the sales sequence.
Using LinkedIn but not HubSpot?
If you're in B2B then you're probably already using LinkedIn. But if you're not yet using HubSpot and are underwhelmed with your current CRM and marketing automation tool's ability to make the most of LinkedIn's hidden potential, then we should talk. What I've covered in this article is just the beginning. Schedule a call with me at Growth London today, and let's discover just how far HubSpot could take your business.