It's been 5 years since I left the relative comfort of full time employment to set up shop as an independent B2B marketing consultant and what an interesting and rewarding journey it has been! It is fair to say that I've never been happier in my career.
I've had the pleasure to work with dozens of high growth companies, usually brought in as a fractional CMO where I get to apply 20 years of hard won sales and marketing experience to devise and deliver B2B marketing and lead generation strategy. It is something that I am good at and enjoy. So why then am I no longer choosing to take on more of this kind of work? Why do I instead pass on new enquiries to my friends at Growth Division and Kurve?
The answer is simple - I've found something that I am even better at, which I believe delivers greater value to my clients and the marketing experts that I collaborate with.
The importance of channel specialists
When delivering as an interim or fractional CMO it is clear that the best results are achieved when a modular team of channel specialists are brought together. Yes, you need a CMO or growth strategist who is a jack of all trades, with a high level understanding of all channels and the ability to coordinate and manage across the marketing mix to deliver a cohesive strategy. But no doubt that to unlock real growth you then need them to assemble a team of marketers that collectively deepen the expertise across each of your key acquisition channels.
This is the classic T-Shape marketer scenario that we've all come to know and understand: e.g.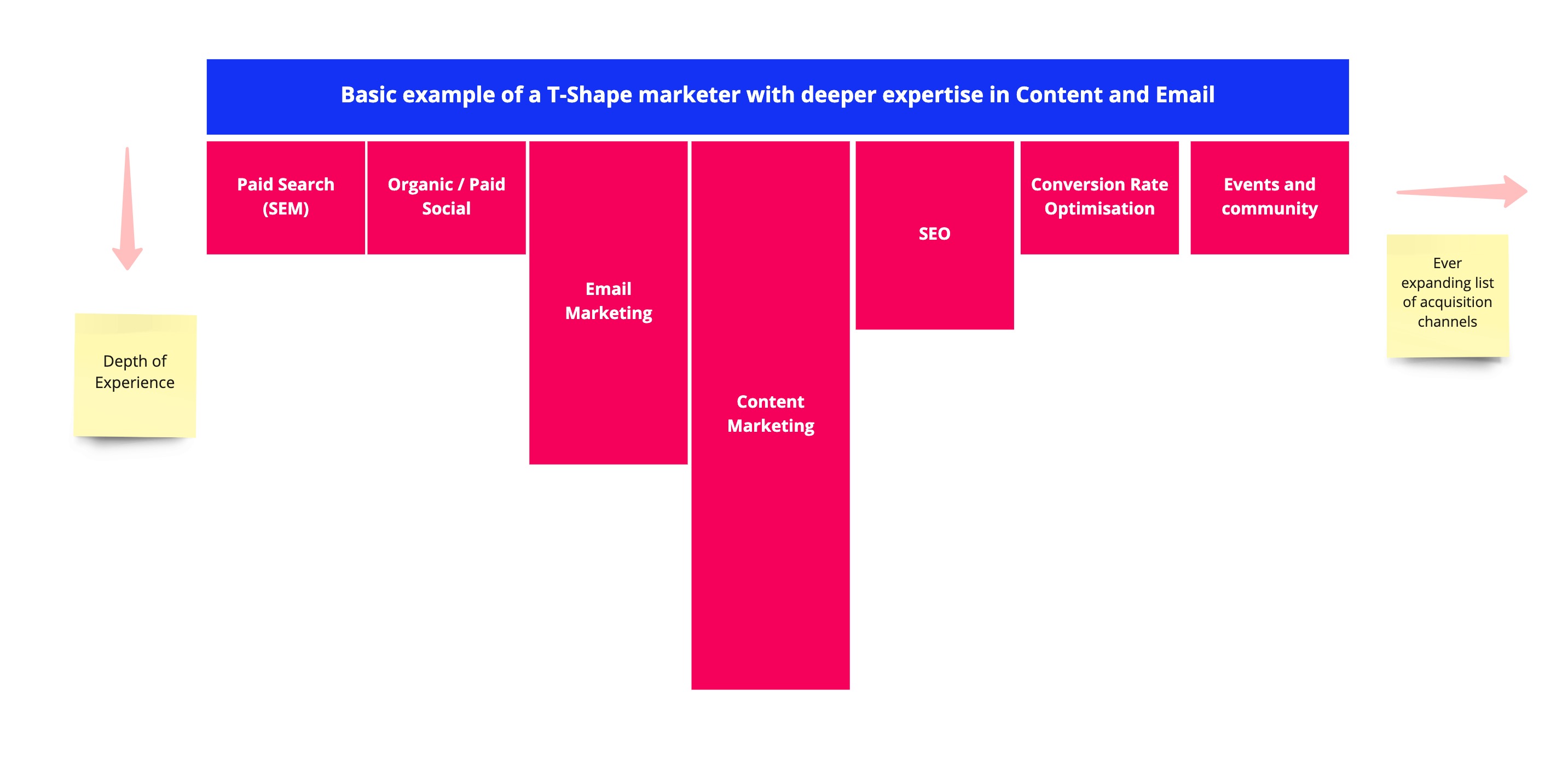 However, as your channel experts get to work, there is a clear danger of falling off track when they end up siloed away, focusing solely on their own domains without tying their objectives and results to the wider goals of the business. There's no alignment, and there are often easily missed opportunities to make incremental improvements.
For even better results - your channel specialists need a central nervous system
Your CRM and tech stack is vital to further boost and enable your channel experts to deliver their best work. And this is not just for the experts in your marketing team - but across the entire customer lifecycle.
You need a central view of your contact database and how each of your revenue channels are performing from initial acquisition right through the sales cycle and on to customer success. In my view, when properly implemented, no marketing tech does this better than the HubSpot platform - the world's best all in one CRM for scaling companies. Which is why I joined the solution partner program a few years ago and have never looked back. I chose HubSpot - not the other way round!
HubSpot have pioneered the demolition of silos and they encourage you to think of your customer lifecycle as a flywheel instead of the old school top down funnel. At the centre of this flywheel is your CRM.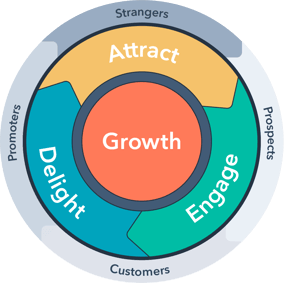 And so increasingly I'm finding that I can achieve the best overall results for clients when focusing on HubSpot implementation to enable Heads of Marketing/Growth, Sales and Customer Success, and their teams, to deliver their best work which ultimately results in happier customers and more revenue.
The strength of a CRM is directly proportional to the quality of the data within it – and with an in-depth understanding of how all the moving parts work and a sweet suite of software at my fingertips, I love nothing more than showing my clients and fellow marketing and growth consultants what HubSpot is capable of.
In effect this has become my own T-Shape - my deepest area of expertise has become CRM implementation to break down silos between marketing, sales and customer success. This is the world of revenue operations, and I'm very much enjoying it.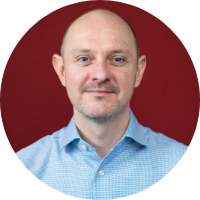 Jonno Price
Hello and thanks for popping by my website! I'm HubSpot CRM consultant based in London, UK focused on B2B marketing automation & business growth.